My curiosity was piqued by this June 1930 issue of Philippine Magazine with a cover painting deviating from the usual Filipino scenery or subject.
This painting entitled "In Doubt" by Enrique Liborio Ruiz is that of a young woman seated on the ground, wearing attire with paisley and floral patterns that would have been worn in another Asian setting. Her hands, one holding a lotus leaf, the other a full lotus blossom are in Buddhist-like gestures signifying the attainment of enlightenment.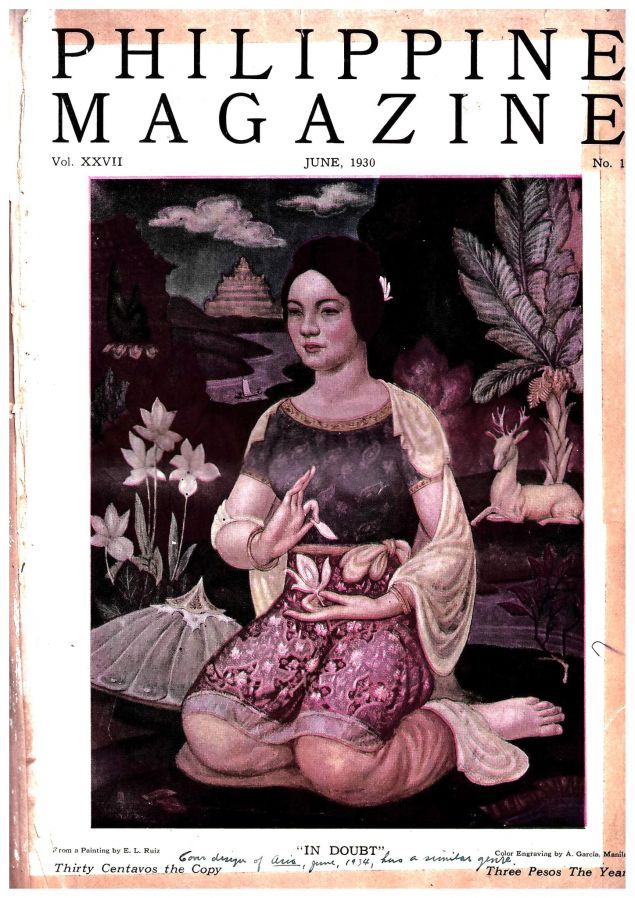 right
There is a pointed Eastern looking "salakot" to her side, a temple and a mythical white deer in the background under a palm tree with celestial clouds floating above.
The first major reason for this incongruous painting is that of the artist, Enrique Liborio Ruiz, born 1903 in Manila and at a young age going to night school at the University of Fine Arts under the tutelage of distinguished-to-be artists like Fernando Amorsolo.
He continued his art studies at Yale's School of Fine Arts, met the architect Juan Arellano who encouraged him to study "Javanese Art." At around this time, 1927, he meets Miss Violeta Reyes a young Filipina traveling with her parents and she becomes the model for the painting "In Doubt." Ruiz was interested in Indian art and with his three month stay in Italy was drawn to the works of Boticelli.
His artistic sojourn abroad freed him from the mindset of indigenous art. He once said "We need not remain insular in taste, nor harp upon the monotonous taste of national art; we should rather endeavor to enlarge our understanding and sympathy."
That sort of thinking may have given Philippine Magazine editor A.V.H. Hartendorp to consider Ruiz's work as the cover for the magazine. In addition to the cover, Hartendorp writes a piece about Ruiz and I attach it to this posting.
From the collection of the Ortigas Foundation Library.