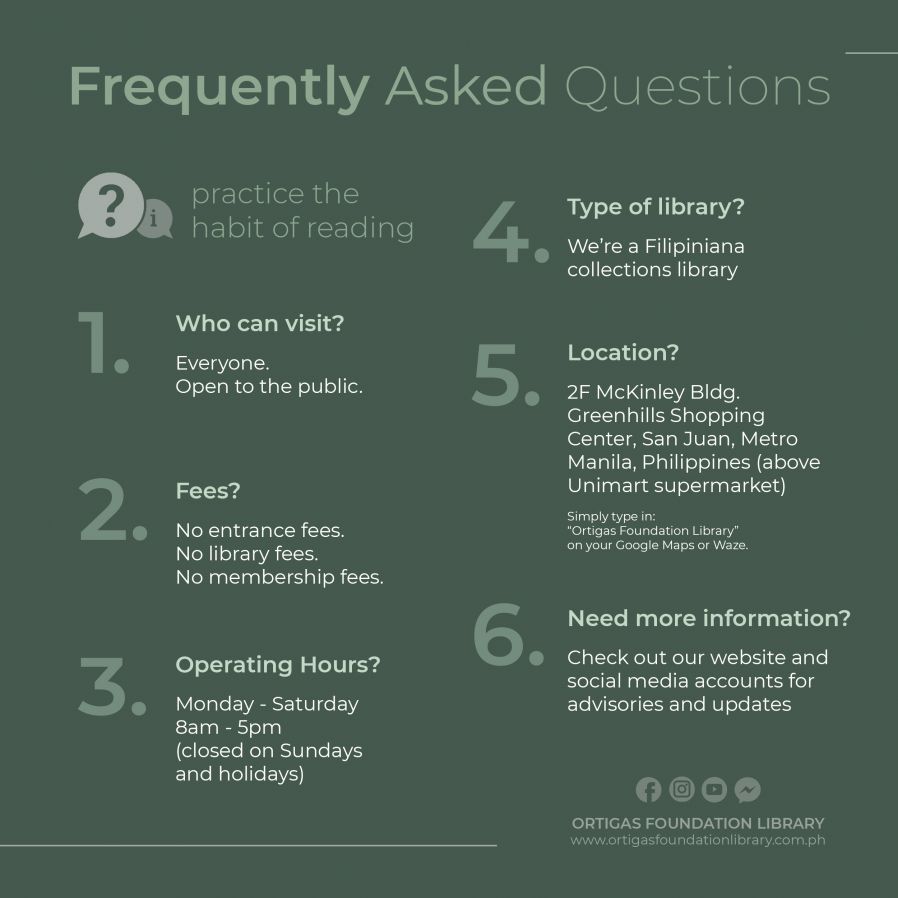 1. What type of library is Ortigas Foundation Library (OFL)?
- OFL is a private collections library specializing in Philippine history.
2. What types of resource materials are available in the library?
- OFL has books, periodicals, maps, prints, and photographs. OFL also has a rare book section.
3. What are the library's operating hours?
- OFL is open from Monday - Saturday 8:00am to 5:00pm (closed on Sunday and holidays)
4. Is the library open during the holidays?
- No, OFL is closed on government-declared special and public holidays
5. Do you have any library fees or membership fees?
- OFL is open to the public, there are no library or membership fees as of now. Students and researchers only need to register upon entry.
6. Do we need to make an appointment prior to visiting the library?
- We are now open to walk-ins. However, it is encouraged to send your research topics in advance (at least 2 days) prior to your visit to cruzcc@ortigasfoundation.com.ph / sandagabp@ortigasfoundation.com.ph
7. What is the library's office address?
- 2nd Floor McKinley Building (above Unimart) Greenhills Shopping Center, Service Road, San Juan, Metro Manila, Philippines
8. Is food and beverage allowed inside the library?
- No, the library strictly prohibits food and beverages inside the library premises.
9. Is there a dress code?
- OFL does not allow sleeveless (sando) tops, shorts, and slippers. The dress code is long pants, closed shoes, and sleeved shirts. Wear appropriate clothing as you would with any academic institution.
10. What is the library's contact information?
- Mobile Numbers:  (+63) 947 426 1432
- Admin and Sales: (02) 8401-6503
- Library and Conservation Services: (02) 8808-8858
- Email: ortigasfoundation@ortigas.com.ph
- Facebook page: www.facebook.com/Ortigas.Foundation